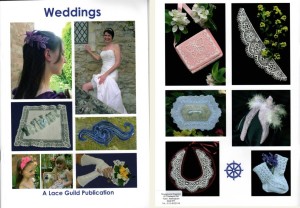 Weddings  published by the UK Lace Guild 2011
Soft cover, 44 pages, A4 size
This is a lovely book containing 20 patterns in different techniques for all members of the wedding party and guests.  Although aimed at weddings, many of the designs can be used for other occasions and are very attractive; especially the bride's handkerchief, the ring cushion and the fascinators.
For the bride there are 3 garters, 1 worked in Bucks Point (with a clear working diagram) and 2 Torchon ones.  The bride's handkerchief is a very pretty Bucks Point pattern with clear working diagrams.
There are 2 horseshoes, one in Flanders and one based on Torchon but with an unusual headside with picots.  This has a matching Tiara pattern.
A small bride's bag follows, in a very simple Torchon pattern.  The sample made uses novelty yarns to give interest and has a fringe.
A pair of wire lace earrings ending in a pearl bead come next.
Crochet patterns include a pair of fingerless gloves for the bride and bridesmaids mittens.  Knitters have a pair of bridesmaids socks to knit.
For the male members of the wedding party there is a Torchon tie for the groom and a simple Torchon buttonhole that can also be used to decorate other items.  If the party include a page boy carrying a ring pillow there is an elongated hexagonal edging in Torchon and this is a very nice design that any lace maker may want to make.
There are 2 more corsage patterns that make very pretty fascinators as well – ideal for the Melbourne Cup!
Finally there is a simple open heart design that can be used to decorate other items or, as the book suggests, can be used as wedding favours for the guests.